On this page
socio-Spatial Patterns in Smallholder Irrigation
Irrigation and water management for smallholder farmers is a high priority on international development agendas for sub-Saharan Africa. However, attention is overwhelmingly paid toward large-scale coordinated investment in irrigation infrastructure and technologies–and approach which has a checkered history of delivering unequal benefits among communities and disrupting ecosystems and resources. Agricultural research and development actors have largely ignored the small-scale water management initiatives and irrigation investments already made by farmers operating independently or in their own community groups.
Kamuli and Mukono Districts, Central Uganda. Source: Google Earth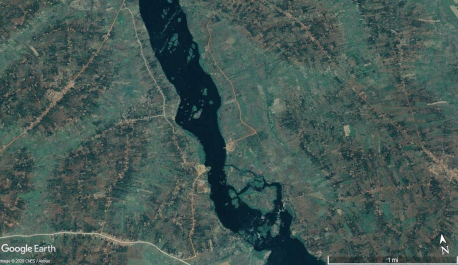 Mosaic of small-scale farm plots in Kamuli and Mukono Districts, Central Uganda. Source: Google Earth
Farmer-led Irrigation
Initial estimates from the literature suggest that the numbers of farmers using low-technology, plot- or farm-scale irrigation methods, and the total land area under such irrigation, likely dwarf the footprint of conventional large-scale irrigation development schemes. Case studies from across the continent suggest that farmers use small-scale irrigation dynamically through time and space in response to an array of social, economic, biophysical, and climatic conditions. How can international agricultural development actors engage more effectively with these irrigation initiatives farmers are already leading?
Remote sensing and spatial analysis in rural landscapes
One challenge in improving engagement with existing farmer-led irrigation is that, despite their significant spatial extent and impact on water and land resources, these farm- and plot-scale activities are poorly understood. What local and regional resources enable farmers to develop their own irrigation practices? How do socioeconomic conditions facilitate or mitigate the use of small-scale irrigation? How do these dynamics change through space–from one landscape or region to the next?
This project aims to clarify the extent and spatial distribution of smallholder irrigation in use in landscapes across sub-Saharan Africa, and to link this with existing data on indicators of social and economic well-being. This involves generating a spatial data set of irrigated agriculture using satellite-based remote sensing data and modeling relationships between spatial patterns in irrigation and landscape-biophysical and socioeconomic resources.
Farmers in Jinja District, Uganda, setting up irrigation pump and piping. Photo: Mariah Coley
Local Governance and Land Tenure Equity in Uganda
Community meeting in Kyekidde, Jinja District. Photo: Abraham Salomon
Customary land governance institutions in sub-Saharan Africa operate at a local scale to influence land tenure for rural farmers, and especially for women, in ways that are largely unknown. Yet these relationships have serious implications for larger patterns of land use, environmental degradation, and agricultural productivity that facilitate or mitigate rural poverty and food insecurity.
Through the application of an established institutional analysis framework, this project, which forms the basis of one part of my dissertation, will probe the relationship between local governance institutions and land tenure in Uganda, addressing the question: How do local land governance institutions determine variations in land tenure among different community groups?
"Unless explicit attention is paid to traditional land rights and land access by weaker groups, particularly women, interventions aiming to increase agricultural productivity may have negative social consequences." —Mwesigye et al. 2020¹
Funding
Henry A. Jastro Research Award, University of California, Davis
Women's empowerment in small-scale Irrigation in Uganda
Irrigation provides farmers the ability to cultivate crops year-round, reducing reliance on the increasingly unpredictable rainy seasons and increasing access to a stable supply of nutritious foods. Crop production in Uganda is very often highly divided by gender, with women responsible for cultivating household gardens while men manage cash crops destined for local markets. This division, along with prevailing gender norms that drive unequal access to resources and technology, keeps irrigation–and the labor- and time-savings benefits it provides–out of the reach of many women farmers.
In this project I am analyzing the gender-related impacts of a 5-year small-scale irrigation development project, the Innovations in Dry Season Horticulture project, toward understanding the constraints and impacts of participation in village-level irrigation groups for both women and men among six villages in Eastern Uganda. This project uses data collected via a modified Women's Empowerment in Agriculture Index implemented in 2018 and 2019.
Collaborators
Betty Ikalany, TEWDI Uganda
Helen Acuku, TEWDI Uganda
Kate Scow, University of California, Davis
Abraham Salomon, University of California, Davis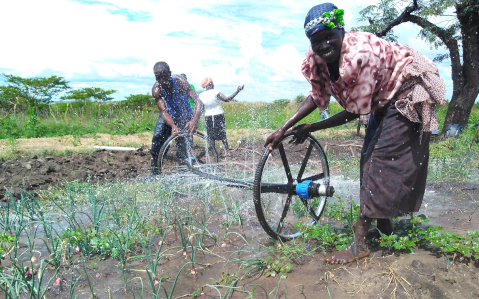 Farmers irrigating in Serere District, Uganda. Photo: Abraham Salomon
Funding
◊ US AID Feed the Future Innovation Lab for Horticulture
◊ Global Fellowships for Agricultural Development, UC Davis College of Agricultural and Environmental Sciences
Drip Irrigation and Soil Health in California
Processing tomato harvest. Photo: University of California
While subsurface drip irrigation is widely considered beneficial for crop yields through increasing efficiency of water and fertilizer use, unknowns remain regarding its consequences for soil health–some of which are mediated by farmer's choices of crop management practices to accommodate their drip irrigation systems. Understanding how farmers approach crop management differently when using drip irrigation can help us more broadly understand the role of drip irrigation in benefiting or constraining soil health.
"Soil health is close to the primary aspect on our [farm] decision making. We think of trying to do all our ops—whether it's water, tillage, nutrient introduction, rotation—asking is there a consideration to how is it for the soil. And what we've found is if we give a lot of thought to all the ways that we nudge soil health, we have the soil and the life in the soil doing our problem solving." —Farmer participant
Our team implemented a semi-structured interview protocol with processing tomato growers throughout the California Central Valley. Questions broadly addressed what practices farmers use, why they use them, how they navigate crop and soil management trade-offs imposed by the use of drip irrigation, and how they view the role and importance of soil health in the success of their farm operations. An iterative thematic coding process was then used to identify and categorize significant statements, which were grouped according to theme and interpreted to produce a composite description of farmers' perspectives. Analysis is ongoing and a publication of findings is currently in preparation (summer 2020).

Funding
California Tomato Research Institute
Participatory Modeling with Smallholder Farmers in Uganda
Most rural farmers in Uganda continually navigate decisions about whether and how to invest limited resources of labor, water, fertilizers, and other inputs in their farm-household systems to achieve optimal outcomes of food production and income. These choices are made more difficult by the increasingly effects of climate change, which have brought an increased variability in the timing and intensity of seasonal rainy and dry seasons that are critical for establishing productive crops. Unlike in most industrialized countries, farmers in the global South have little access to decision-support tools–such as crop system models–that can simulate a variety of scenarios and help clarify the best farm management choices for a given set of climate and economic conditions.
In this project I configured an established process-based crop production model, the Agricultural Policy / Environmental Extender (APEX), for the very small-scale cropping systems common in much of East Africa. I also developed a sample protocol for a participatory approach to configuring and implementing such models with rural communities of farmers in this region. This project formed the basis of a capstone project for my MSc in International Agricultural Development.
Focus group discussion with farmers in Serere District, Uganda. Photo: Abraham Salomon
Funding
◊ Research and Innovation in Food and Agriculture Fellowship, US AID and University of California, Davis
◊ Henry A. Jastro Research Award, University of California, Davis
References
¹ Mwesigye F., Guloba M., Barungi M. (2020) Women's Land Rights and Agricultural Productivity in Uganda. In: Konte M., Tirivayi N. (eds) Women and Sustainable Human Development. Gender, Development and Social Change. Palgrave Macmillan, Cham